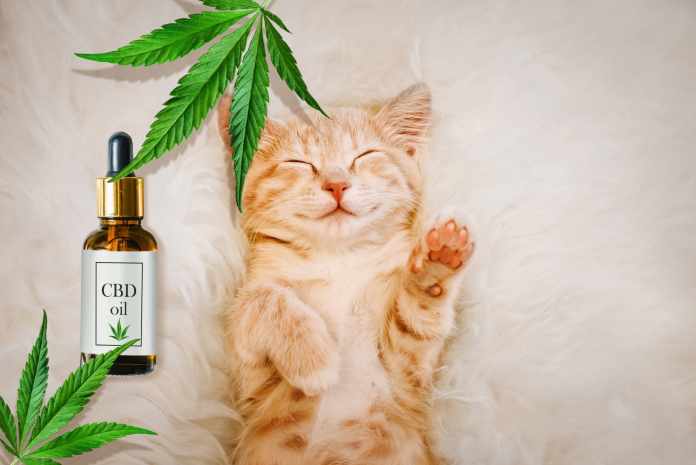 This post is also available in:
Français
Deutsch
Italiano
Español
We have seen in recent years the popularization of various therapeutic products with CBD (or "cannabidiol") listed as the main ingredient. CBD, derived from cannabis, is a cannabinoid with calming properties and, unlike THC, is not psychotropic and addictive. CBD Oil For Cats More and more people are using CBD on their pets, especially cats. Let's see what the recommended uses for our feline friends are.
How Does CBD Work For Cats?
We find in humans an endocannabinoid system that serves as a regulator for critical physiological functions such as immunity, mood, sleep, or even pain. It turns out that cats also have this endocannabinoid system. There are two types of cannabinoid receptors in the body of cats. The first is found in the brain and nervous system. The other is located in its immune cells and peripheral organs, such as the stomach or intestines. When we consume cannabis, its active compounds influence these receptors, and cats can benefit from the effects of CBD as quickly as we do, thanks to these receptors.
The Benefits OF CBD For Your Cat
Even though we are amassing more and more. Evidence on the many benefits and potential applications of CBD. Research into cannabis as a therapeutic herb is still relatively recent. Some institutions are beginning to accept. The idea that a substance that has been demonized. For too long offers an objective panel of different therapeutic solutions. This explains why there aren't many studies of CBD in cats. But several anecdotal. And preliminary reports can be found that attest to its therapeutic benefits.
Some of the health concerns that CBD can alleviate in cats. Include effects on aggressive behavior. Loss of appetite, anxiety, stress, or lack of energy. It has also been observed beneficial effects on disorders such as inflammation or infections.
However, cat owners attest that CBD oil brings good results in more severe health conditions: some common diseases in cats where the cause is often related to inflammation problems like arthritis, CBD Vape Pen pancreatitis, inflammatory bowel disease, or even asthma. CBD helps to treat both the causes and the symptoms of these various disorders thanks to its anti-inflammatory and analgesic properties, for which it is renowned.
One can also imagine that CBD could help with seizure problems in cats, as we were able to prove that CBD uses to treat seizures in humans, including Dravet syndrome, a rare form of epilepsy.
Knowing How To Dose CBD For Cats
Considering the difference in size between cats and humans, it's natural to think that they will require a much lower dose of CBD than we do. If you were getting a CBD product made specifically for cats, such as oil, be sure to read the dosage recommendations that come with the product. You can also use CBD products designed for humans, be sure to use a reduced dose on your cat. It estimates that an ideal amount of CBD for a catboils down to 0.1-0.5 mg of CBD per kg. Certain disorders can cause your cat's individual doses to vary, as well as other factors. Remember that "not enough" CBD muscle balm is better than "too much." Be sure to start with smaller doses and watch how your cat reacts to them.
In the dosages recommended according to the disorders, one can note:
Arthritis: 0.5 mg / kg twice a day

Asthma: 0.5 mg / kg twice a day

Inflammatory bowel disease: 0.2 mg / kg twice daily

Pancreatitis: 0.1 mg / kg twice a day. Gradually increase to 0.5 mg/kg twice a day

Chronic upper respiratory tract infections: 5 mg/kg twice daily

Seizures: 0.5 mg / kg twice daily. Gradually increase, keeping in mind that the maximum dose to treat seizures can be up to 3 mg of CBD per kg for your cat.
It is essential to know that CBD does not usually work instantly. It can sometimes take several weeks before you can observe the effects of CBD on the animal. So when administering CBD, keep your patience and stay consistent. Oversee your cat help you determine the optimal dose over time. Generally, it recommends waiting a week or two before increasing the amounts. Be sure to repeat this process while following the recommendations until you see the desired effects.
Are There Any Side Effects OF For Cats?
If you follow the dosages outlined in the previous paragraph, there should be no adverse side effects when you give your cat CBD oil. A large amount can cause the same effects as a sedative in cats, but nothing possibly lethal.
Even though CBD is initially harmless to consume, you should know that you should never administer cannabis CBD vape juice or its derivative products containing THC. Cats are even more sensitive to THC than humans. Even if THC's high effect is recreationally in humans, your cat will find it highly unpleasant.
Many pet owners report that their cats' health and well-being have greatly improved with the use of CBD oil. This suggests that CBD may be an effective and safe way to treat your cat for various health conditions. So try administering CBD oil to your cat and let the results speak for themselves!