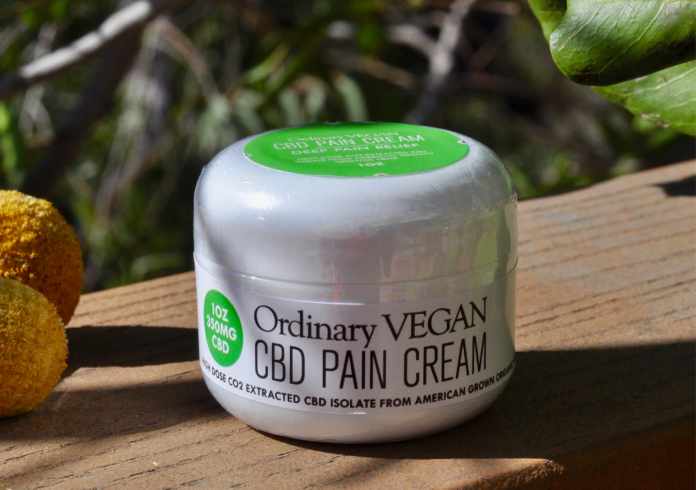 This post is also available in:
Français
Deutsch
Italiano
Español
Naturals CBD Pain Relief Cream with Capsaicin
Topical CBD treatments effectively provide fast-acting relief from muscle and joint pain, especially CBD Pain Cream, when combined with other ingredients that support this effect.
Kat's Naturals offers this unique CBD warming cream based on capsaicin, the substance that gives chilies their spiciness. This product design to increase blood flow and reduce pain in the affected area.
CBD has a long list of health benefits. One of the most relevant topical uses is its anti-inflammatory and pain-relieving properties. When you combine the symptomatic support of a warming cream with the powerful analgesic effects of CBD, you get something special.
While that's nothing new, the guys at Kat's Naturals certainly know how to make a top-notch pain relief cream.
We like this joint pain product mainly because the warming effect helps bring the CBD content deep into the ligaments and joint tissues, where it is difficult to get through the skin.
Overview: CBD Pain Relief Cream With Capsaicin
Capsaicin Cream is one of three topical CBD formulas offered by Kat's Naturals. Capsaicin has the unique ability to activate heat-sensitive receptors scattered throughout the body. Once activated, these receptors stimulate blood flow to the area, bringing fresh oxygen and nutrients to the site to speed healing. It also does a great job of reducing pain around the joints.
Pros and cons
Pro: Includes many beneficial herbal ingredients that help support pain and inflammation relief Offers the effects of CBD locally Easy application
Versus: Use CBD isolate rather than full-spectrum oil Incomplete third-party testing
Main features and benefits: CBD Pain Cream
1. Botanical synergy to make the effects of CBD more potent
CBD relieves pain through the vanilloid and opioid pain receptors and helps reduce inflammation. Herbalists, such as Kat Merryfield, founder of Kat Naturals, often combine therapeutic substances with complementary effects to give a powerful boost.
This cream is made with anti-inflammatory and pain-relieving herbs, including ginger, juniper, black pepper, marjoram, and rosemary, to enhance the effects of CBD. This is what we refer to with synergy. These ingredients strengthen their products to produce a more robust result.
2. Localized relief
The beauty of topical formulas is that they offer targeted pain relief. Topical applications bypass the bloodstream and digestive tract, offering fast-acting anti-inflammatory and pain-relieving benefits for skin, muscles, and joints.
Company Information: Kat's Naturals
Kat´s Naturals was founded in 2015 by an herbalist and nutritionist, Kat Merryfield, who started this company in her backyard in Tennessee.
She began experimenting with CBD to help her husband deal with the stress of his military experience. Today, the brand is still profoundly attached to veteran programs, through donations of part CBD honey sticks of its profits to organizations like the Atlanta Organization Operation Rally and CBD products specially formulated for veterans.
Kat Naturals' product catalog includes tinctures, creams, face serums, pet oils, CBD chocolates, and vibrant hemp flowers, all made with organic hemp crops and other botanical ingredients.
Who should think about using this product?
We recommend this cream if you are looking for relief from muscle and joint pain. CBD, in combination with the warming active ingredients, offers immediate pain relief in problem areas.
Kat's Naturals recommends massaging the cream into the inflamed areas and repeating every 2 to 4 hours as directed by a healthcare professional. Since the formula contains warming ingredients, be sure to wash your hands thoroughly with soap after applying the cream, and don't touch your eyes while it's still on your hands – it will burn.
If you have skin sensitivities, this may not be the right product for you, as heating agents can sometimes irritate sensitive skin. If that's the case, our advice is to try Kat's Naturals' other CBD pain reliever cream, formulated with arnica.
Quality price
To make it easier to compare prices for our reviews, we break down the CBD content price. Keep in mind that many other factors affect the cost, such as third-party testing and additional ingredients.
This product is available in two sizes: 30ml or 120ml. As you can see in our table, with the 120ml jar, you can save $ 20.
It's an excellent price for CBD alone, especially considering the CBD used to make this product comes from organic hemp grown in the United States. Kat's Naturals also provides an external laboratory test certificate to prove the cannabinoid profile and potency.
As mentioned before, this cream is more than its CBD content. It contains high-quality oils that make this formulation unique, and most importantly, effective in curing pain and discomfort.
Power
When CBD is applied to the skin, it bypasses both the digestive and blood flow, offering immediate relief to the affected area.
Our skin is the largest organ in the body. It does a great job of protecting the body from external dangers such as pollutants and toxins; thus, it does not absorb cannabinoids very well, which makes the absorption rate of CBD products very low.
To get the most out of topical CBD products, you need to apply generous amounts to the affected area. Another thing that helps is finding a product with high CBD levels.
We believe that the basis for an effective topical CBD-based formula for pain and anti-inflammatory effects starts at 8 mg of CBD per ml.
Containing 350mg of CBD per 30ml of topical, this product provides 12mg of CBD per ml of cream and is available in a 1oz (29ml) or 4oz (~ 120ml) jar.
Overall, we like the ingredient list. While CBD plays an essential role in the formula, the other superstar ingredients provide nourishing and pain-relieving effects for the skin.
Source of hemp: CBD Pain Cream
Kat's Naturals said to grow their hemp on three multigenerational farms in the United States' Southeast.
The website provides the Certificate of Analysis (CoA) for all the company's products; however, writing this review. I noticed that there is an old lab result on the site. I am dating back to August 2018.
Old lab results are a wake-up call. And when you come across outdated lab results. Or if additional information is missing. I recommend that you contact the companies personally.
With an immediate response to my email. Kat's Naturals sent me the latest CoA. That the hemp extract used in this formula is a CBD isolate with added beneficial terpenes.
It would also have to test for mycotoxins, pesticides, heavy metals, and other contaminants.
Thankfully, Kat's Naturals has had these tests done on other products to trust their hemp source; however, it is vital to have each batch tested to ensure overall consistency.
Formula / Ingredients: CBD Pain Cream
In addition to CBD, this pain relief cream contains several beneficial herbal extracts and other ingredients designed to optimize the pain-relieving effects of CBD.
Let's look at some of the most critical ingredients in this formula in more detail.
1. Emu oil
If you were looking for a vegan CBD cream, these are not for you.
Emu oil is made primarily of the sebum found in the deeper layers of the emu bird's skin. Native to Australia, emu oils have been used in indigenous culture to protect skin from sun damage, treat inflammation, and heal wounds.
In a topical CBD-based formula, the best CBD capsules emu oil acts as an excellent carrier oil for CBD extract thanks to its fatty acid profile; it is almost identical to that of our skin, so it is quickly absorbed.
2. Capsaicin oil: CBD Pain Cream
Capsaicin is the substance that makes chilies hot. When applied to the skin, heat can hide pain signals from your nerves, making it an active pain reliever valuable compound in treating the pain associated with arthritis, muscle injuries, and irritation.
3. Essential oil of ginger
Primarily used for the treatment of stomach pain and nausea, when applied topically, ginger also becomes a warming agent. The ginger essential oil contains powerful anti-inflammatory properties that can soothe inflamed skin and redness.
4. Essential oil of black pepper
Black pepper oil is another valuable warming agent for blood circulation and paint masking. It is also rich in antioxidants and is a natural anti-inflammatory, so it is another critical ingredient for the CBD's pain-reducing effects in this formula.
5. Essential oil of marjoram
Marjoram is an aromatic herb belonging to the mint family and is excellent for relaxing muscle tension. It contains analgesic and antispasmodic substances used to relieve involuntary muscle spasms.
6. Juniper essential oil
Juniper essential oil is a versatile oil that can be used internally (with guidance from a healthcare professional) and externally. Massaged into the skin, it can help relieve muscle pain and cramps in the affected area.
7. Essential oil of rosemary
Another familiar herb used in cooking, rosemary, has powerful pain-relieving and anti-inflammatory properties. Besides, it has a regulatory effect on the circulatory system, which helps balance blood pressure in the affected area.
Product options and flavors
As previously mentioned, the CBD cream with capsaicin is only available in the potency of 12 mg/ml and two sizes of 30ml and 120ml.
If you think the heat effect is too intense for your skin type, we recommend the gentler CBD formula based on arnica. Arnica oil is particularly effective in healing scars and reducing the appearance of bruises.
Are you looking for something a little more substantial?
With each click of the convenient dispenser, the professional cream offered by Kat's Naturals has a potency of 15 mg of CBD and a medically-use organogel (to improve absorption through the skin). This formula also includes the healing properties of arnica oil and is generally well tolerated on the skin.
Kat's Naturals Shipping and Return Policy
Kat's Naturals products can ship internationally; rates depend on the destination.
If you were not satisfied with your order, please contact customer support at [email protected].
Kat's Naturals offers a 30-day satisfaction guarantee (excluding shipping cost) for a full refund or product exchange.
Final Verdict: Excellent CBD Topical Cream You Can Count On
We were impressed with Kat's Naturals products. This brand doesn't take shortcuts to cut costs, and its designers seem to understand the importance of product quality when it comes to health.
Of the very few CBD warming topical formulas we have found, this is one of the best. The ingredient list pack with natural CBD bath bombs and effective warming agents enhances the anti-inflammatory and pain-relieving effects of CBD.
Look for a CBD cream to relieve pain and discomfort from mild to moderate arthritis. Muscle aches associated with an active lifestyle, or a mild injury, this CBD cream with capsaicin may be for you.